Schumer goes after ultra-violent video game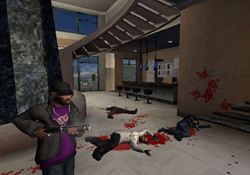 A new, extremely violent video game release from Eidos Interactive, creators of the blockbuster "Lara Croft" game series, is catching the ire of Senator Chuck Schumer (D-NY).
25 to Life is being called 'far worse than Grand Theft Auto' by a number of critics, including Michael Medved on his nationally syndicated radio show today.
The New York Democrat says the objective of the game called "25 to life" is to shoot police officers, and use civilians as human shields.

He says the game is so gruesome that it lowers common decency.

Schumer is asking stores not to stock the game and for PlayStation manufacturer Sony and X-Box maker Microsoft to cancel their licensing agreements with the British company that makes it.
The game's expletive-laden soundtrack is drawing fire also.
Despite the attacks on the game, teens on internet message boards say they are looking forward to the game.
After two major delays so far, 25 to Life is slated to be released for PS2, Xbox and PCs in September.
Interestingly, there is silence from the Jackson-Sharpton cabal on the negative images of blacks portrayed in this game. Does this mean that it is OK, in their minds, for this kind of image to be presented?
Posted by mhking at June 20, 2005 08:14 PM