You remember the Ted Rall debacle this summer. Now comes yet another one.
Left-wing cartoonist Jeff Danziger has put out a political cartoon about National Security Advisor Condoleezza Rice that is just as bad and racist as the Ted Rall screed this summer.
If you remember, Ted Rall had a racist cartoon that offended many, and was the source of a protest letter that I sent to Rall's syndicator, United Features, back in July.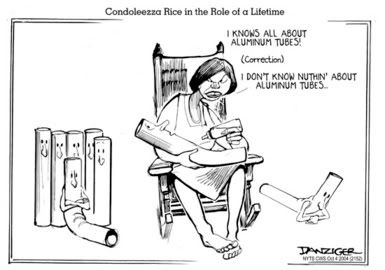 I don't know what makes these racist leftists think that it's OK, simply because their target happens to be a conservative. What's wrong is wrong. What's racist is racist. Period.
Wanna give Danziger and his syndicator, the New York Times Syndicate, a piece of your mind?
Danziger Cartoons are syndicated by the New York Times Syndicate. Call 917-306-3616 or email to jeff@danzigercartoons.com for all publication and permissions.
What's wrong is wrong. Period.
Posted by mhking at October 12, 2004 04:55 PM