Why Is This An Issue?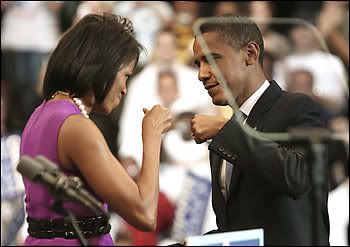 I'd be the last person to consider Barack Obama a black conservative. But all the whoopla over his bumping fists with his wife Tuesday night after clinching the Democratic nomination is beyond me.



That's just something that we do.



I do it with my wife; I do it with my friends. Hell, I thought it had entered the mainstream -- after all, contestants on "Deal Or No Deal" do it with host Howie Mandel.



But to hear and see all of the commentary today, you'd think he'd done something revolutionary or crazy.



I kind of thought there were some legitimate issues to talk about -- gas is still at $4 a gallon. The border still leaks like a sieve. The mortgage mess still has millions worried about the value of their homes. The Iraqis still won't step up and take control of their own country. Mahmoud "Leisure Suit Larry" Ahmadinijad still keeps rattling his sabre and threatening to wipe Israel off the map. Oh, and Osama "7-11 Clerk" Bin Laden is still hiding in the hills of Afghanistan/Pakistan (if he's still alive).



If this is what we're going to have to be subjected to from a press that has nothing better to talk about between now and November, it's gonna be a long summer indeed.


Posted by mhking at
08:41 PM
|
Comments (0)