Nichols manhunt update
These images are from CNN/Turner Security, operator of the Centennial Garage in downtown Atlanta. They were taken at 9:30 Friday Morning in the same garage where the 1997 Honda Accord that everyone was looking for yesterday was found at about 11 last night.
This is the same garage where Nichols took the vehicle from Atlanta Journal-Constitution reporter Don O'Briant.
The garage is bordered by Spring St. facing the Atlanta Journal-Constitution, the AJC's trucking facilities, Centennial Olympic Park Drive (and across the street, CNN Center), and Marietta St. It's catty-corner from Centennial Olympic Park, and less than a block from the Omni/Dome MARTA station.
At 9:30 yesterday morning, Nichols' photo had not been circulated yet. He literally could have gone anywhere. He could have entered CNN Center, he could have grabbed a cab on the street, he could have hopped a MARTA train, he could have even walked away!
This garage is about a block from my wife's office, and the two of us literally drove past it within minutes of Nichols' passage. Prior to this, he drove the wrong way up a one lane wide one-way street - one I had driven down about three to five minutes earlier.
The larger question that this entire situation begs is regarding the investigative capabilities (or lack of capabilities) of the Atlanta Police Department and the Fulton County Police Department! Centennial Garage is less than five blocks from the courthouse! Mind you a private citizen found the car, not the police!
UPDATE - 10A - A US Customs agent has been found shot to death on Lenox Road in Northeast Atlanta. The agent's badge, gun and pickup truck are missing. The truck is a blue 1994 Chevrolet pickup, with Georgia tags ATG 6121
- 11:15A - Hostage situation in Duluth (Gwinnett Co.) just northeast of Atlanta. Apparently the truck is there. This is on Satellite Blvd. in Gwinnett Co.
Per Geraldo Rivera on FNC, Nichols is definitely holed up in this apartment complex in Duluth.
UPDATE - ATF is reporting that Nichols IS IN CUSTODY!
UPDATE - 11:40A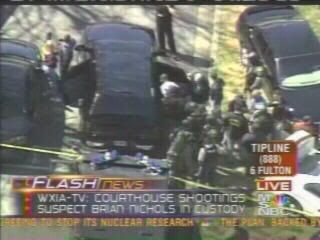 Nichols is in the white shirt after having been taken into custody in Gwinnett County this morning.
Posted by mhking at March 12, 2005 07:55 AM