Courthouse shooting in Atlanta
Fulton County Judge Rowland Barnes was shot and killed as he sat on the bench in his 8th floor courtroom this morning. A Fulton County deputy and a court reporter were also killed.
The suspect is Brian Nichols, a black man, 34 years old, 6'1", 210 pounds.
He has carjacked multiple vehicles; and local police are looking a stolen 1997 green Honda Accord, with Georgia tag 6584YN.
Nichols had received a mistrial for the rape of his girlfriend, and was on his second trial. Nichols took a gun from a Fulton County deputy, and shot two or three people in the courtroom (depending on which station is reporting at the time) and escaped. One deputy was shot outside the Fulton County courthouse, after which the suspect entered a parking deck across the street.
Due to the ongoing threat, Atlanta Public Schools have placed a number of schools on lockdown.
UPDATE (11:50A): New word that the green Accord has been located at the Lakewood apartments in Sandy Spring. That would be on Roswell Rd. just inside of I-285 north of the city-proper.
UPDATE - The description of the car is being flashed on the overhead highway signs in metro Atlanta.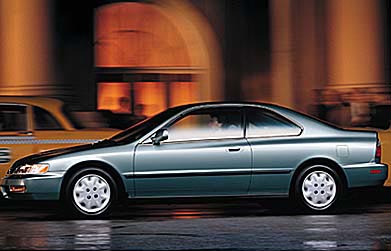 (This is not THE car, but an example to let you know what it might look like)
A press conference from Atlanta's mayor just concluded; the perp is still at large, and a massive manhunt is taking place all over north Georgia.
APD officials say they believe Nichols is still in the area, perhaps still in the city.
UPDATE = (4:30P) New word (from WXIA) is that Nichols was in a holding room, overpowered a deputy, took her weapon, left the area, walked down a hallway into the old section of the courthouse, entered Judge Barnes' chambers, handcuffed an officer there, and then finally entered the courtroom and opened fire.
UPDATE - (6:30P) MSNBC's Dan Abrams is reporting that Fulton Co. DA Paul Howard mentioned a call received from Nichols, threatening to kill Asst. DA Gayle Abramson, who had tried his rape case. Howard said that he and his family, as well as Abramson, are in protective custody.
UPDATE - (11P) - WSB-TV is reporting that the green Accord has been found at the parking deck off of Marietta and Spring Streets in downtown Atlanta (right across from my wife's building, mind you). That deck is less than three blocks from the Omni/Dome MARTA station. If he ditched it there early on, he could have easily walked there or to one of three other subway stations easily. This guy literally could be anywhere by now.
Posted by mhking at March 11, 2005 11:41 AM