IL Congressman Bobby Rush arrested for protest at Sudan's Embassy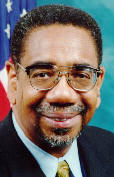 US Representative Bobby Rush (D-IL) was arrested during a protest today at the Sudanese Embassy. Rush and others were led away to a Secret Service van after blocking the embassy entrance.
Rush was booked on misdemeanor charges of disorderly conduct and unlawful assembly, Secret Service spokeswoman Ann Roman said. Earlier this week, Congressman Charles Rangel (D-NY) was arrested in a similar protest.
Protesters have charged the Sudan with genocidal operations against its own people.
Embassy spokesman Abdelbagi Kabeir said Thursday it was difficult to understand the motive behind the campaign against the Sudanese government that some members of Congress are waging.

"There is no genocide," he said. "There is improvement."

Tens of thousands of civilians have been killed in the Darfur region of western Sudan in the past year-and-a-half, and an estimated one million people have been driven from their homes.

"People are dying because they can't get the humanitarian relief they need right now," Rush said, blaming the problem on the Sudanese government practicing genocide on the basis of ethnic and religious grounds.
Rush has suggested that the Bush Administration urge the United Nations send in peacekeeping troops to restore order to the African nation.
"All we need is 2,000 troops and we can stop this," Rush insisted.
Posted by mhking at July 15, 2004 10:59 PM