Katrina aftermath: 80 dead, toll expected to rise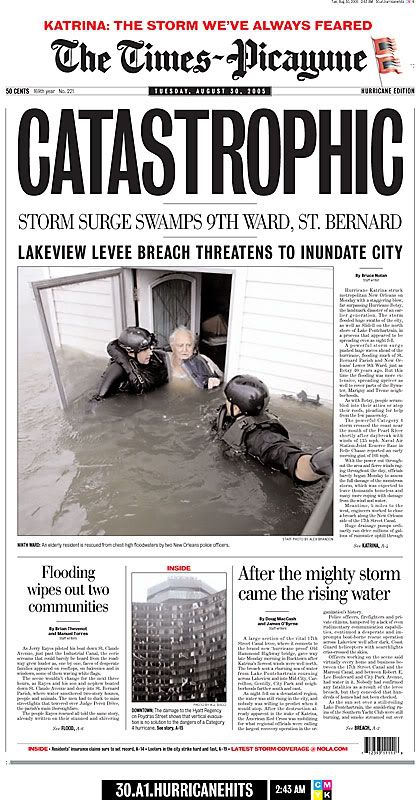 As now-Tropical Storm Katrina continues her inexorble march northeastward, residents of Louisiana, Mississippi, Alabama and Georgia begin to pick up the pieces left behind.
According to some reports, up to 80% of New Orleans is underwater. Many buildings have windows blown out. The levee has been breached in multiple places, allowing floodwaters to enter the city. At least some of the pumps have failed. The Louisiana Superdome, used as a shelter-of-last-resort for more than 10,000 people, had the skin of it's roof torn off; multiple holes in the domed stadium's concrete and steel roof allowed wind and rain into the interior. Interstate 10, the main highway to access the New Orleans area, is impassible both west of New Orleans as well as east of New Orleans.
Other areas of Louisiana east and south of New Orleans are in worse shape. Thousands are virtually homeless in Louisiana alone. The death toll in and around The Big Easy hasn't even been imagined, but with the scale of damage, the numbers are expected to be staggering.
On the Gulf Coast, east of New Orleans, the port cities of Biloxi and Gulfport were badly battered. Local reports say that at least 80 people are dead in that area alone. The ABC television affiliate in Biloxi, WLOX, had it's roof snatched off and it's transmission tower destroyed. Buildings have been scoured from their foundations. It's as if God took a giant steel wool pad and scrubbed the surface of the ground.
In Mobile, yet further east, water innundated homes, buildings and overran bridges. An oil rig, torn free of it's foundations, floated freely until it slammed into a bridge in Mobile wedging itself underneath the bridge.
Back to New Orleans, the water is rising, the power is out, there is no potable water, hard line telephones are out, cellphone service is very spotty at best, some buildings are on fire, many cars are underwater, many people are stranded.
Going inland, there is damage across all four states with winds, rains and tornadoes damaging buildings, trees being brought down, and power being disrupted. A tornado in Carrollton, GA, outside Atlanta destroyed 30 homes and damaged another 100. Power in and across central Mississippi is out this morning, as the full extent of this disaster continues to unfold.
Live streaming video from New Orleans NBC affiliate WDSU is available; Mobile's CBS affiliate WKRG is also streaming wall-to-wall coverage of the aftermath of this disaster.
Posted by mhking at August 30, 2005 10:00 AM | TrackBack