I'm doing O'Reilly tonight on the Nichols aftermath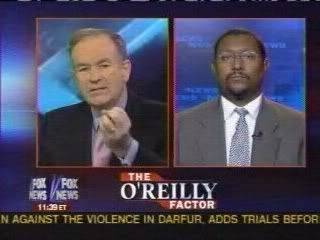 I'm going to be on Bill O'Reilly's show on Fox News Channel tonight, as part of their coverage of the aftermath of the Nichols shooting here in Atlanta.
The angle that tonight's show is going after is the history of corruption and incompetance of the Fulton County Sheriff's Department, first under prior sheriff Jackie Barrett, then under recently elected sheriff Myron Freeman.
The other guest in my segment will be Dick Williams, moderator of WAGA/Fox 5's The Georgia Gang and a writer with the Atlanta Business Chronicle.
The segment is set for somewhere between 8 and 10 minutes past the hour; The O'Reilly Factor airs tonight at 8 & 11 ET.
UPDATE: O'Reilly's producer just called and told me that the segment has been bumped up to the top of the hour -- they want to hit this straight out of the box.
They tape at 6, so hopefully, I can get back home in time to watch my ugly mug on the tube...
UPDATE (after the fact): I made it back in time to watch on the tube.
I was a little nervous -- partly (at least as I can see it) because I was in a different studio than I usually am when I do these things.
Overall, the segment came off OK. Though the point I was trying to make at the end was a bit rushed, and didn't come across completely. My point was that the people here seem to rush to find someone black to lead to the exclusion of finding someone qualified. It should be the other way -- find someone qualified. There are plenty of QUALIFIED blacks who can lead. Don't stop with the first black person you find simply because he is black.
Posted by mhking at March 14, 2005 02:12 PM