Crazy Al says "What's wrong with me getting paid to campaign?"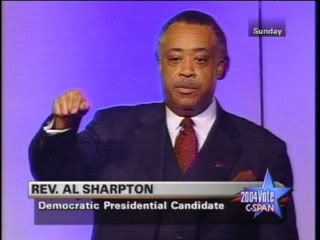 Al Sharpton got his pocked lined to the tune of $86,715 in "travel and consulting fees" from the Democratic National Committee after Sharpton withdrew from the 2004 Presidential race.
"They asked me to travel to 20 or 30 cities to campaign, and I did that," Sharpton said. "What am I supposed to do, donate the cost of airfare?"

Democratic National Committee spokesman Jano Cabrera said the party paid Sharpton at the Kerry campaign's request.

"After meeting with Kerry's staff, we did agree to pay for Rev. Sharpton's travel and consulting expenses," Cabrera said. "He traveled very extensively to help the nominee and Democrats across the board, encouraging them to get out and vote on Nov. 2."
Sharpton says that he should be reimbursed for travel expenses, but records show that some $35,000 went straight into Crazy Al's pocket.
None of the other former candidates received any fees from the DNC.
This brings new meaning to the term "walking-around money."
Posted by mhking at December 9, 2004 07:12 AM