Reagan on the $10? (Or the $20?) It could happen...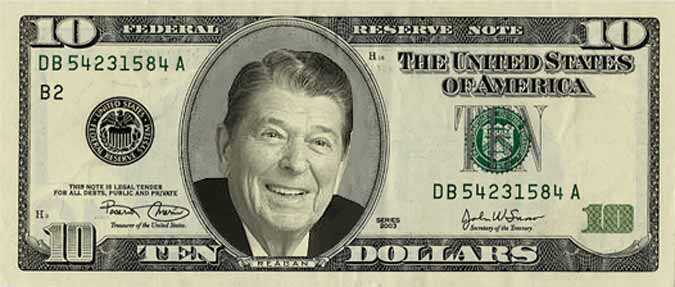 Democrats in Congress aren't happy with the notion, but Republican Senator Mitch McConnell of Kentucky is set to introduce a bill which would replace Alexander Hamilton's face with that of President Ronald Reagan on the ten dollar bill.
The decision as to who is on the face of money ultimately resides with the Secretary of the Treasury, but currently, Democrats on the Hill are opposed to the notion of their long-time political nemesis being on the ten-spot.
"Ronald Reagan did many things during his presidency that deserve to be remembered," says Todd Webster, a spokesman for Senate Democratic leader Tom Daschle, "and Democrats and Republicans will discuss how best to honor his legacy."
Another proposal would put Reagan's face on half of the dimes minted in the nation from now on; the remaining half would continue to have President Franklin D. Roosevelt's visage.
After this week's ceremonies mourning Reagan's death, leaders of the Ronald Reagan Legacy Project plan to begin lobbying Congress to make the Reagan ten dollar bill a reality.
UPDATE 2P ET: US Rep Dana Rohrbacher is also sponsoring a bill to replace Andrew Jackson's face with Reagan's on the $20. This is a measure that will probably get even wider support, as Jackson is more widely despised than 'co-founding father' Hamilton.
Posted by mhking at June 8, 2004 12:28 PM